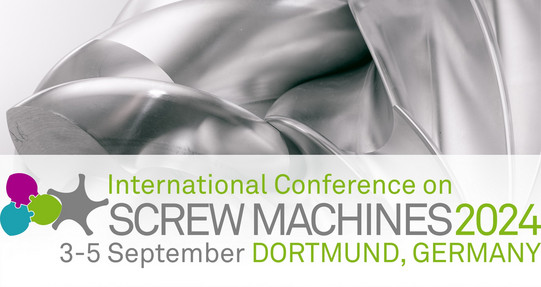 ICSM 2024 - Save the date!
International Conference on Screw Machines
Dear members of the screw machine community,
We are thrilled to announce the upcoming International Conference on Screw Machines 2024 scheduled to take place on 3-5 September 2024 at TU Dortmund University. This event promises to be a productive gathering of leading experts, researchers, and practitioners from the industry.
Not only have we shortened the conference cycle to two years, but we have also planned some exciting new features for the ICSM 2024. The lab tour will be offered as a social evening event prior to the conference. In addition, we would like to introduce the possibility to give technical presentations without writing a paper.
The conference will provide a platform for in-depth discussions and presentations on the latest advancements, breakthroughs, and applications in the field of screw machines. With a focus on technical science and innovation, the event will feature keynote speeches, technical sessions, lab tours, and networking opportunities designed to foster knowledge exchange and idea sharing.
We invite you to mark your calendars and join us in exploring the latest developments shaping the future of twin-screw technology. This is an unparalleled opportunity to connect with peers, learn from thought leaders, and contribute to the advancement of this dynamic field.
Further details regarding registration, submission guidelines, and the conference agenda will be shared in the near future on this website.
Thank you for your continued support of scientific progress, and my team and I look forward to welcoming you to the International Conference on Screw Machines 2024.
Sincerely,
Andreas Brümmer
Chair of Fluidics
TU Dortmund University